The transparent, secure and effective use of data has transformative potential for consumers and businesses. However, there is a need for more openness about how data is collected and used for the benefit of consumers.
At Experian, we believe that organisations have a responsibility to build that trust with consumers by demonstrating their integrity through better data stewardship, transparency and accuracy.
This free guide takes you through the 6 key elements of the General Data Protection Regulation, how to begin preparations and the opportunities it can present.
Please note that while we can support businesses with their preparations for the GDPR, we cannot offer legal counsel or compliance advice and this guide should not be considered as such.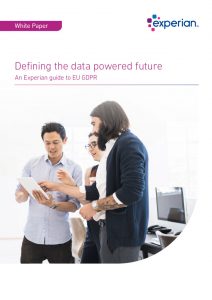 By downloading this you agree to our
Privacy Policy