The COVID-19 lockdown may have only bolstered this further, with the time at home causing many to rethink their current situations, take up new hobbies and explore alternative ways of making a living, putting their plans into place at last.
How to choose the right business idea for you
To start your own enterprise, you first need to come up with some good business ideas that are unique, fill a market gap and, of course, are profitable. Your passions and expertise are a good starting point, since you'll know what it takes to succeed and be willing to put the hours in.
How do I start a small business from home?
In the early days, running a business from home won't always be easy and there will be many long days and nights required to put the essential groundwork in place. However, it can offer a fulfilling and flexible working life when done correctly.
With plenty of business software tools available, it's easier than ever to get up and running with just a laptop, a desk and a lightbulb business idea.
So, what do you need to do to turn your great business idea into action?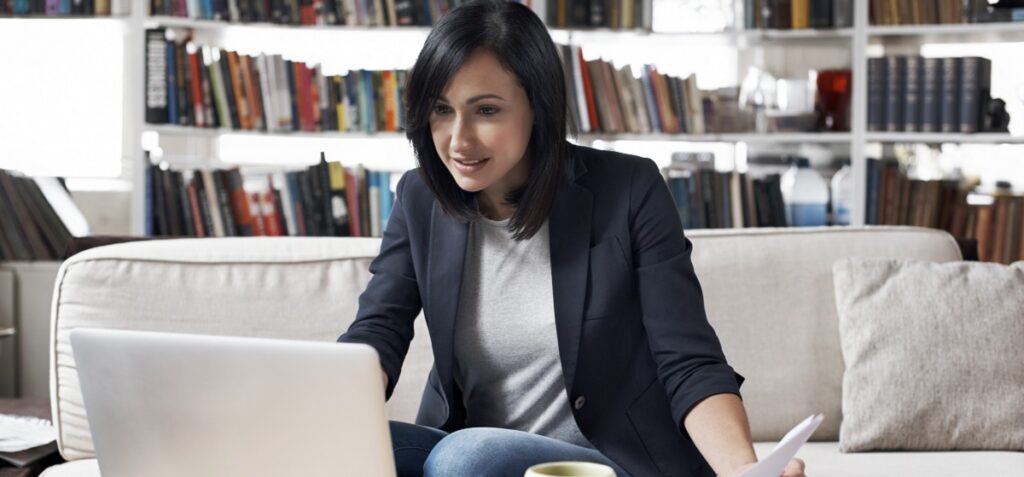 Popular small businesses ideas in the UK
E-commerce 
The opportunities for an e-commerce business are far and wide-ranging and most simply, involves selling products via an online platform. For this, you'll need a good website and an e-commerce system to manage stock, customer relations, delivery and more – as well as the product you're selling. Some e-commerce businesses start by growing their customer base locally, then with clever use of social media marketing and a niche product, which they then scale up across the UK, and even to other countries.
The possibilities for this are endless – whether you're an avid crafter making homemade gifts or working with third-party suppliers to sell clothes.
What's more, choosing to sell your product online rather than investing in a physical retail unit could future-proof your business. It's expected that 27.5% of total retail sales this year will be from e-commerce, growing to one third by 2024.
Apps
Rather than e-commerce, which largely focuses on products, an app offers services to the consumer. According to App Annie, mobile app usage surged 25% YoY in Q3 2020, this high demand for apps makes for a valuable but competitive market.
As a starting point, you need to find a solution to a common problem even if people don't know they need it yet. Digital.com outlines how you can turn your ideas into a successful app.
Subscription services 
Due to the rise of working from home, and also the growth of e-commerce, subscription boxes are soaring in popularity. Some models such as Bloom and Wild or Glossy Box offer 'pick me ups' in the form of a regular treat and are often used as gifts, while others including Dollar Shave Club are more practical and keep customers well stocked of the things they need most.
People in Britain spend over £2 billion every year on subscription services, with an average monthly spend of £14, and its success is predicted to grow. With online distribution, it means there's lots of opportunity to find a niche, unexplored market and create the perfect box for those customers.
Working from home business ideas
Working from home is no longer the distant dream that it used to be for most people. These days, more and more are looking for careers that have the flexibility to fit in with their increasingly hectic lifestyles. Often, that means being able to set up your office from home – or in fact from anywhere you feel like. If that sounds good to you, then take a look at the home business ideas below.
Freelancing
Whether it be writing, web design, marketing or make-up artistry… Freelancing gives you the opportunity to do whatever your particular passions and skills are – and from the comfort of your own home.
Childcare
Setting up a childcare business can be an especially attractive option for parents of young children. Once the necessary training and certification (link to https://www.gov.uk/register-childminder-childcare-provider/overview) is complete, a childcare business will give you the flexibilty of working from home whilst saving the cost childcare and getting to spend more time with your own children.
Coaching
Like freelancing, the options are almost limitless for a coaching business. Whatever your area of expertise is, perhaps a language, a musical instrument or a particular business skill, the chances are that there are people looking to learn. It may be that you set up coaching sessions from home or you could earn your income from online coaching and courses.
Selling homemade crafts
This is another great way to earn a living by doing something that you love. If you have a talent for creating, whether it be greeting cards, chutneys or knitted babywear, there is a huge market for high quality, homemade crafts. You can sell online, at craft fairs or through third party sellers.
Business ideas for students
With undergraduate tuition fees reaching as much as £9000 per year, more and more students are looking for ways to start earning before they graduate. If you're a student with an entrepreneurial spirit then why not try one of these business ideas?
Organising student events
The ideal opportunity to benefit from the student 'work hard, play hard' lifestyle. Think club nights, film screenings, speed dating nights and more…
Essay and thesis proofreading
If you have the language skills and a great attention for detail then proofreading could be the ideal student business for you.
Pop-up supper club
If you're a keen and competent cook then why not whip up some delicious, cheap meals for your fellow students and make a profit while you're at it? All you need is a kitchen and enough space to seat people.
Delivery service
Helping other people save time can be a really valuable service, especially for students who have essay deadlines to meet! Whether you deliver someone's groceries, emergency stationery supplies, late night beer run or breakfast MacDonalds, this is a great business idea for someone who likes variety and doesn't mind unsociable hours.
Low cost business ideas
Setting up your own small business can be risky. Often, it means leaving the security of being an employee where you have the benefit of paid holidays, company pension and bonus schemes etc. Taking out big start-up loans can often be a risk too far so if you're looking for ideas that won't cost the earth then here's a bit of inspiration.
Cleaning
A cleaning business is easy to set up. You just need your cleaning equipment and basic marketing such as some printed flyers or posters in shop windows.
Hair and beauty
Britons are spending more than ever on hair and beauty. Whether it be manicures, make-overs, massages or more, now is the perfect time to find your own niche in the beauty market.
Food and drink
The rise of 'the foodie' has seen new small businesses in the food and drink industry pop up everywhere. Craft gin, subscription veg boxes and the like are hugely popular at the moment and so are the opportunities for any foodie entrepreneur in the making.
Photography
There will be an initial outlay for your camera, lenses, tripod etc and if you're not already an experienced photographer you'll need to take some courses. Once you're set up however, there are many opportunities to make good money with this business. Some of the options available are wedding photography, creating and selling stock photos, doing freelance work for magazines or setting up your own studio to do portrait work.
Gardening
A gardening business is a great choice for people who want to work outdoors. Again, there is an initial outlay for equipment but after that, running costs should remain relatively low.Business
Consultancy
Consultancy is big business these days and while the setup costs are small (especially if you're working from a home office), it relies on your expertise and networking abilities for success. So if you're an expert in your particular business field and you love to meet new people, then this could be for you.
How to evaluate your business idea
Having explored a handful of small business ideas and chosen the one that suits your career goals and skill-set, there's still a bit of work to do before taking the plunge and registering the company. Beyond the initial idea, it's time to drill down and ask yourself a few questions to evaluate your business, your commitment to it and its potential for future success.
Question 1: Am I passionate about it?
Owning and running a small business will soon become a large part of your life, so it's important to pick an idea that will give you the drive to push it forward, even on the harder days.
Question 2: Am I capable of doing it?
This might go without saying, but you need to be an expert in whatever service or product you're offering. If not, the knowledge gaps will soon become apparent as you take it to market and your customer confidence will drop, as well as your own.
Question 3: Can I make a strong elevator pitch about my idea?
An elevator pitch is a short statement that describes clearly the vision, goals and purpose of your business – named so, because you should be able to put your idea across successfully to strangers in a short elevator ride!
If you can't summarise this in a few sentences in a way that no-one close to the idea can understand, then it's time to have a deeper think about your plan and how you can focus it further.
Question 4: Who will want to use my business? 
Define the group of people who need your products / services. Once you have a clear understanding of your audience, you'll be able to start forming plans about how you will market your business to them.
Question 5: Is it profitable?
Of course, running a business you're passionate about is key, but if it doesn't make any money then it won't be long before you're back working for someone else again. As well as identifying a customer base, having a basic understanding of the costs involved in the running of it, and comparing it to your budget, will help to evaluate the true profitability of your idea.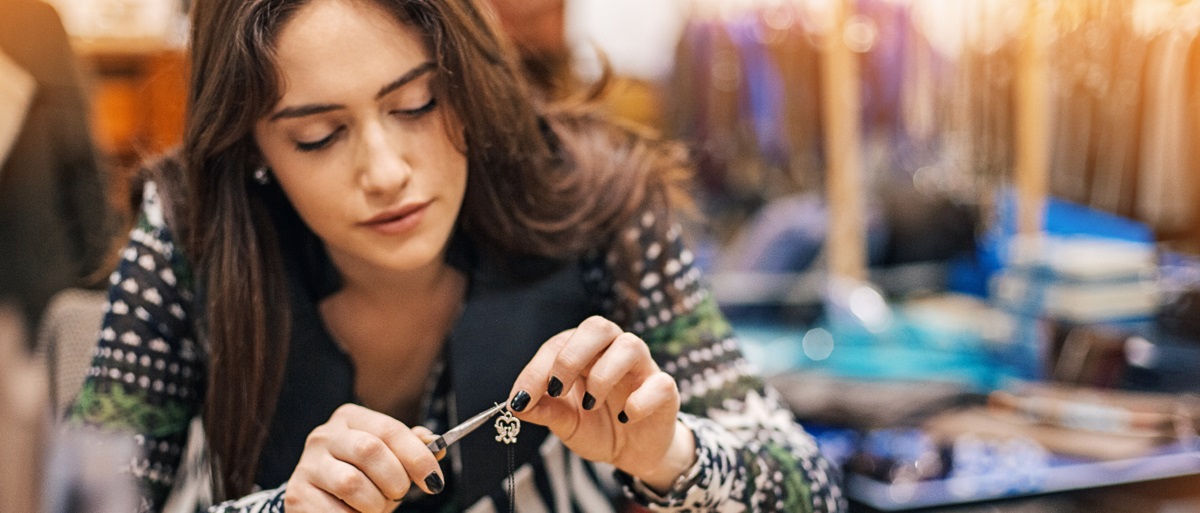 Top tips for launching your own business
Choosing your idea is just one part of the larger preparations that take place before taking the first step to self-employment. Here are some top tips to help see your business idea make its way from your head, and into your wallet.
Tip 1: Know your business and its market
We've touched upon this earlier, but beyond the initial brainstorming stages it's important to get a solid understanding of your business' market, audience and competitors. Getting feedback from friends and family is a good place to start, but commissioning professional market research, or employing an expert could help to build some key foundations for future success.
You'll need to know who your competitors are, why your audience currently uses them and where they might be falling short, so you can offer the perfect solution within an existing market.
Beyond the initial business launch, it's also a good idea to think about how it could grow, to enable forward forecasting. For example, if you started a dog grooming business, would you then expand to sell animal food and accessories? Or maybe you could develop and launch your own products to sell, under that brand name. Trialing this early on helps you to understand its longer-term vision, from the start.
Tip 2: Name and structure your company
Now you're ready to register your company so first, you'll need to decide on a name. Though it's a fun task, this might be one of the most important steps for setting up your own business. But that doesn't mean you need to overcomplicate things – sometimes a simple name will be much more effective than a pun or 'clever' play on words (which could come across as cheesy or unprofessional). Armed with knowledge of your audience, spend time choosing something suitable and again, call upon your friends and family for feedback.
Then you'll need to decide upon the structure of your company, which is crucial for legal and tax purposes. There are a few options ranging from a sole trader to a limited company, each of which have their own legal and financial considerations. Always get advice from an accountant or solicitor on the best option for you, but it's good to start the professional conversations with a basic understanding.
Tip 3: Secure funding
When starting your own business, you'll need a budget and some sort of funding. Even if starting your business from home, costs such as buying a website domain, outsourcing technical work, marketing your company and designing your brand will all start to add up.
Luckily, there are a number of Government loans or traditional business loans that are available. Tools such as business loan calculators are useful when considering these options to see how much you could secure.
To help, ensuring you have a good business credit score at all times also means that more opportunities will be available to you throughout your entrepreneurial journey.
Tip 4: Build the brand
Once you have your name, you can start to build up your brand and its assets around it, creating a fully-fledged company and finding potential customers. Depending on your budget, you could hire a design specialist or if not, spend time learning how to use the many online digital design tools that are available.
In preparation for your launch, you'll also need to start marketing the company. Specific methods will differ depending on your target audience, but getting to grips with social media and building an online presence is essential.
Tip 5: Launch it into the world
Once you're happy with your brand and product, and you have a structure in place, it's time to start finding customers. Pick a date and use your marketing techniques to build up a buzz ahead of your launch – enlisting the help of friends, family or even local influencers can help to spread the word and gain you some followers in the initial stages. Don't be afraid to use tools such as LinkedIn either to speak to previous customers and other professional connections, and share the details of your new venture.
A key priority is maintaining positive cash flow, particularly when you are just starting out and every penny counts. As well as building up your own business credit rating, tools such as Experian Business Express allow you to run credit checks and monitor any company you work with, so you can spot signs of trouble early on and make informed decisions.
Building your own business from scratch might seem daunting but by following the steps we outline above, you should be able to take your big idea to market – and enjoy all the rewards this brings.Find out how My Business Profile could help you track and improve your own business credit score.