Email Insights
Gain a complete picture of your email subscribers by linking traditionally siloed databases and insights such as in-store shoppers, loyalty program members and mobile app users, to your email marketing list.
Email Insights is a collaborative email consortium, compatible with any email service provider (ESP), that helps marketers gain insight and intelligence into their email subscribers' behaviours and activities.Through actionable intelligence from participating members you'll gain insight into:
Global email activity, including aggregated open and click data
Optimal day of week, time of day and device preference
Performance comparisons with industry averages
Demographics, psychographics and interests
Combining cooperative and third-party append data can dramatically increase your ability to segment and target your email content to improve relevance, drive enhanced engagement and encourage reactivation. Through Email Insights three core modules, you receive a wealth of information to identify active subscribers within your inactive list, helping you develop strategies to re-engage them.
Download our product fact sheet to understand more about Email Insights
Have a look through our guide and FAQ brochure if you are interested in specific information relating to Email Insights.
Insight we can add to your customer profile: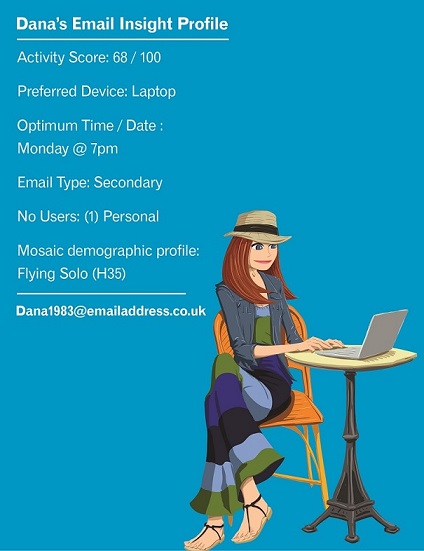 View our Privacy Policy for details on use and storage of your personal data.
*Denotes a required field
If you have any queries, please don't hesitate to contact us and a member of our team will be happy to help.
Call us on 0845 234 0391
Outside the UK +44 115 901 6019
Calls cost 2p per minute plus your phone company's access charge
Get in touch
Contact us
0845 234 0391
Please use the form below to get in touch and we'll come back to you shortly