Mosaic in Detail
A single classification for all marketing channels
Mosaic is Experian's powerful cross-channel consumer classification designed to help you understand the demographics, lifestyles, preferences and behaviours of the UK adult population in extraordinary detail.
Mosaic has evolved to help you understand and communicate with consumers in a way that matches their world. In the new cross-channel reality, Mosaic enables you to accurately and consistently engage with consumers wherever they are, offering endless possibilities.
---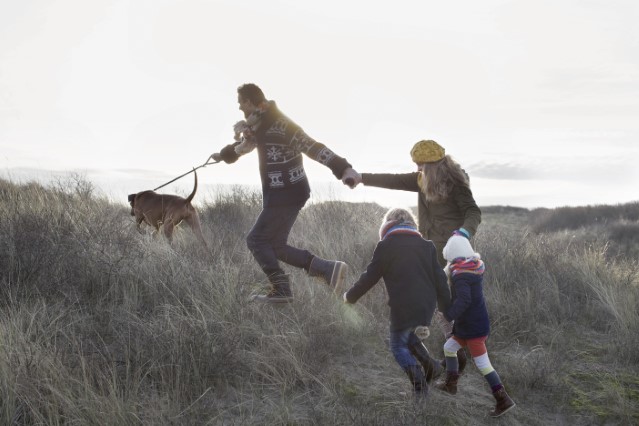 What is Mosaic?
Mosaic is Experian's most comprehensive cross-channel classification system to date. Built for today's hyper-connected world, it helps you understand consumers in extraordinary detail. By providing rich, accurate data and a robust methodology, Mosaic gives you the means to start treating people as individuals, and communicate with the UK population more effectively than ever before.
Benefits:
Accurately engage customers and prospects with consistent messages across all channels
Reach the right target audience with the right message at the right time
Personalise your customer communications to enhance their experience and drive retention
Find optimum locations for new stores by understanding catchment profiles
Mosaic reflects the immense changes that have reshaped customer expectations of service quality. Interpretive consumer insights can be integrated into your marketing tools, enabling you to engage with your customers to great effect at every point of contact:
Mosaic is dynamic – it gives you a stable base from which to understand different types of consumer, through a segmentation that keeps pace with changing consumer trends.
Mosaic is actionable – you can deliver relevant content to the right people across the channel mix. From automated emails to targeted online advertising, you can integrate Mosaic into your current marketing tools to maximise the value of your customer insight.
Mosaic is relevant – you can combine your own customer insight with Mosaic and create customised consumer segments specific to you.
---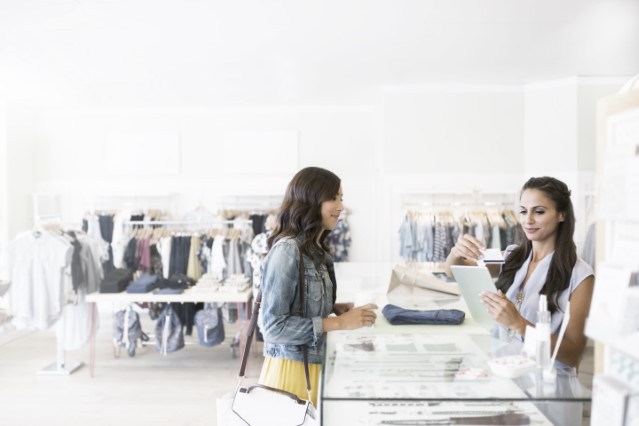 Mosaic - the common currency
Being much more than a socio-demographic segmentation system, Mosaic is even more relevant today than when it was first created 30 years ago, giving you a clear picture of who consumers are, where they are and what they want.
Mosaic gives you a classification framework that operates across all channels and that stays consistent, regardless of the media you are using. Profiles that are created are the same whichever channels your customer uses, being identifiable at an individual consumer level.
Benefits:
Understand and target consumers consistently across all channels – and allocate your online and offline media spend to best effect
Get more from your marketing by bringing all your activity together under one classification system
Improve the customer experience to secure a competitive advantage
Mosaic's single and consistent classification system works as a 'common currency' across all channels, underpinning the whole of your marketing activity. Backed by relevant and up-to-date data, you can plan and measure your campaigns to target audiences consistently across all the different channels at your disposal:
34m email addresses and 20m mobile numbers linked to Mosaic insight.
Reach consumers consistently through targeted online banner ads.
Deliver targeted ads via digital TV set-top and on-demand boxes.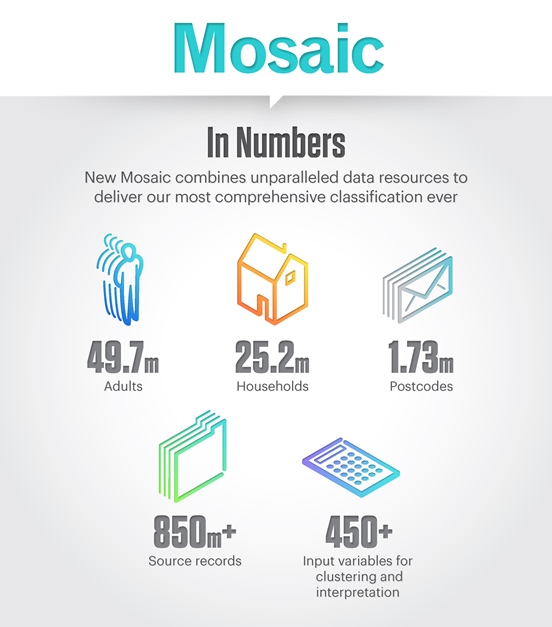 How is Mosaic built?
Building on a 30 year track record of identifying changes in the structure of UK society, Mosaic synthesizes over 850 million pieces of information to create an easy to understand segmentation that allocates 49 million individuals and 26 million households into one of 15 Groups and 66 detailed Types.
Our Mosaic team, which has 100+ years of combined experience in developing and delivering regional and global segmentations, use more than 450 data variables from a combination of Experian proprietary, public and trusted third party sources - including research findings and behavioural data - to build a pin-sharp picture of the latest UK consumer and social trends.
Benefits:
Use the same segmentation types for both individual households and postcodes
Use a single classification to talk to the right person wherever they are and through whichever channel they are using
View our Privacy Policy for details on use and storage of your personal data.
*Denotes a required field
If you have any queries, please don't hesitate to contact us and a member of our team will be happy to help.
Call us on 0845 234 0391
Outside the UK +44 115 901 6019
Calls cost 2p per minute plus your phone company's access charge
Get in touch