When businesses are trying to build their eCommerce efforts or stretch digital presence, their success is dependent on one thing: data quality. Experian's 2022 Global data management report shows that 89 percent of business leaders say contact data has become more important than ever to reach their customers during the pandemic and now. And poor data quality means it limits their reach to the right audience and can also prevent them from analysing the data into actionable insights.
Steve Farr, VP of Solutions & Marketing EDQ, published a blog on "7 things you can do to improve your Microsoft Dynamics 365 data" in which he highlights the principles of keeping your database clean and avoid Garbage In, Garbage Out (GIGO) for CRM users like Dynamics 365.
Here, I'd like to address some wider data challenges that marketers face and how you could overcome them.
B2C: Data validation during eCommerce checkout process
Let's start with the eCommerce checkout process. If you're in business-to-consumer (B2C), such as Internet retail and banking, this is where you're most likely to acquire new customer data. When a customer buys a product on your online store and checks out, the shipping address and payment details are entered into the online form. At this point, if the system asks the customer to confirm or verify the address, the customer can rest assured knowing that the retailer has the correct information to deliver the package just ordered.
An eCommerce checkout form is the first point to capture high-quality contact information before it even hits your eCommerce database. You can easily integrate your eCommerce site with data validation software. These integrations combine real-time contact data validation with your eCommerce checkout process to automate the data collection and verification process as contact information is entered into each field. Here's an example of how I ordered a flower bouquet from Bunches, one of Experian's customers. During my check out process as a customer, I typed the UK postcode into the first line of the recipient address. The system automatically displayed a few suggestions for me to choose from, see the attached image below. This made my checkout process easier, and the address was well-formatted and accurate. So, I can sit back and relax knowing that the flower bouquet I just ordered from Bunches can be delivered to my door on the date I requested.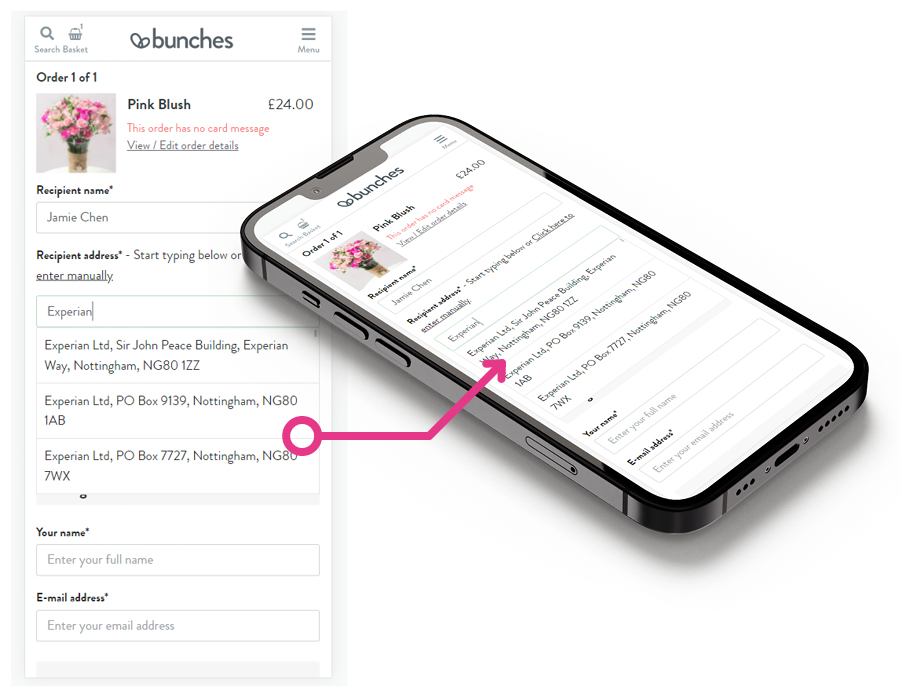 "Experian's address validation has made the checkout process on our website much quicker and significantly improved our delivery rates. This helps our operations run more smoothly."

Dani Turner, Customer Experience Director, Bunches
Read Bunches' full story and learn how they improved their delivery rates.
Let me give another example of how important data validation is to you. Now as a company, you have collected customer information and can use it to complete your operational tasks and marketing tactics. Think further about how you can leverage this contact data in automated marketing platforms like Salesforce Marketing Cloud.
Automating your marketing campaigns can save a lot of time. But if you don't understand the quality of the contact information in your marketing campaign database, you may feel uneasy. For example, if you're running an email marketing campaign, chances are some of your customer or prospect emails are inaccurate. Emails could have been collected long ago, for some reason, the data is now ageing. If your automated marketing platform is equipped with data validation, your confidence will be greatly enhanced as your email campaigns will be delivered to customer or prospect's existing inbox. This, in turn, minimises your risk of becoming a bad sender and increases your return on your marketing investment.
eCommerce Data Validation Quick Wins
Provide a seamless customer experience

With fewer keystrokes, the checkout process will become easier. Plus, with accurate customer contact information, you'll be able to confidently reach your customers through multiple channels, including email, phone or mail.

Protect Your Data Integrity

Maintaining strong relationships with customers and maximising customer satisfaction is critical. Automating data quality monitoring and verification emails ensures that marketing campaigns and sales messages are accurate and deliverable, reaching the right people in the right places, in a timely manner.

Reduce Operating Costs

Invalid contact data can lead to unnecessary costs. Leveraging accurate email data increases ROI by minimising the risk of bounced emails and spam traps.
Data Validation for Salesforce and Microsoft Dynamics 365. Speak with a data quality expert today.
Contact us now
B2B: Data Validation in Marketing Demand Generation
Likewise, with the right information, business-to-business (B2B) can know who their customers are, where their customers are, and what customers'preferred communication channels are. Our global data management research also shows that 75 percent of businesses say they've seen a dramatic change in their consumers' behavior during the pandemic. Accurate contact data helps companies adapt to unprecedented times.
How? As a marketer, your time is always limited, and you need data to make the best decisions for your audience. This is why validating lead details on the web form during the demand generation process can have a decisive impact on sales revenue. As the marketing database puts it, GIGO. If you put inaccurate or incomplete data into your fine-tuned marketing engine, you will inevitably lose traction with potential customers – their engagement will drop, and you end up risking customers switching to competitors. So even if the marketing and sales funnel is busy reaching, nurturing, and converting leads as efficiently as possible, it will always be hindered by invalid or even poorly validated data. On top of that, something as simple as flawed data can tax the entire process at the cost of sales time, wasted leads, and damaged attribution. One simple solution is to integrate your B2B website with data validation software, which provides real-time contact data verification during your lead capture process. Below is an example of a lead form with data validation technology.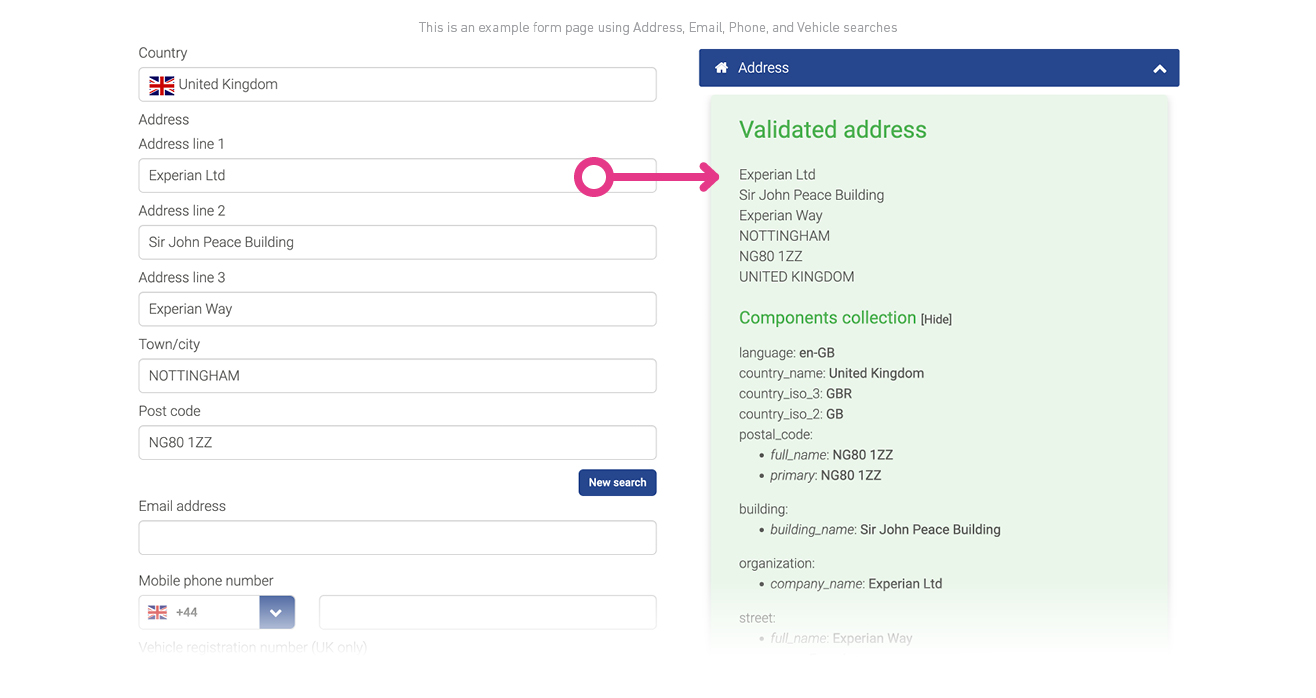 You can try Experian's data validation technology and see how our address, email, and phone validation technology works in real-time, link here.
Demand-Generated Data Validation Quick Wins
Saving time selling

According to HubSpot, 35-50% of sales go to the vendor that responds first. Every minute your business development and sales teams spend dialing an invalid number or correcting a number is a minute your competitors are competing with you to sell. (Read our blog by Matt Dine, Account Director & Team Lead, on How to streamline sales processes with improved CRM data quality.)

Filtering wasted leads

Gartner shows that the B2B buying journey is not linear. And it takes more than 10 touches from the first contact to talking to a B2B sales team. If your marketing automation platform doesn't have a valid email address, it won't even manage a second touch.

Reference: New B2B Buying Journey & its Implication for Sales, Gartner

Fixing impaired attribution

In the same Gartner research, it shows that "customers who perceived the information they received from suppliers to be helpful in advancing across their buying jobs were 2.8 times more likely to experience a high degree of purchase ease." In this digital age, we rely on collected data to understand this complex B2B buying relationship and drive marketing and sales strategies. So, if bad data, even just a misspelled company name, can mean marketing leads in CRM that are not attached to customers. Quality verification checks can prevent these simple mistakes from destroying a valuable knowledge base.

"Contact information drives how we manage our membership programme. Experian's data validation solutions were easy to connect and have enabled us to capture the right information up front so we can communicate with members. Evidenced during the Covid-19 pandemic where we needed to provide our members information quickly and regularly."

Dean Burton, Operations and Analysis Manager, Melbourne Cricket Club

Learn how Melbourne Cricket Club improved their email delivery rates to 99% to save over AUD$100,000.
How Experian can help
As a certified Salesforce AppExchange Partner and Microsoft Gold Partner, our global data quality solution integrates seamlessly into Salesforce CRM and eCommerce, and Microsoft Dynamics 365 to ensure only accurate addresses, email addresses and phone numbers for your customers and prospects are captured and stored in your system. Get your free trial today, visit Experian's Salesforce AppExchange or Microsoft AppSource.