Contact us
0844 481 5886
8:30am - 5pm Monday - Friday
Contact an Experian expert
To request a call back to discuss IBAN conversion further, please submit your details below and we will be in contact with you shortly
Participation in the SEPA Credit Transfer and SEPA Direct Debit schemes now requires you to submit a valid IBAN and BIC for all EU domestic and cross-border Credit Transfers and Direct Debit payments.
| | | |
| --- | --- | --- |
| | Sepa Direct Debits/SEPA Credit Transfers | Existing European Legacy Systems |
| Euro cross-border payments | BIC and IBAN required * | BIC and IBAN required |
| Euro domestic payments | BIC and IBAN required * | IBAN not required |
* IBAN only required (in 2012) following European regulation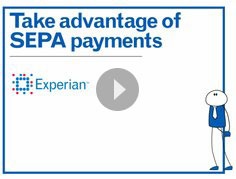 Your customer databases may contain domestic bank account details rather than the BICs and IBANs required. Given that many banks are not prepared to provide a validation and data conversion service to support SEPA, the responsibility of ensuring payment records are correct at the time of submission rests with you as a corporate.
So should you spend time and money individually contacting each customer to obtain accurate, updated account details and then manually update your databases? Or should you use a fast, efficient and cost-effective electronic BIC and IBAN conversion service?
How we can help convert your existing payments data to BIC and IBAN format
Our Data Conversion Service can help you realise the cost savings and increased business efficiencies resulting from the new SEPA directives by cleansing, validating and electronically converting your existing payment database from the domestic BBAN (Basic Bank Account Number) format to the required BIC and IBAN standard.
---
The Data Conversion Service:
validates and cleans existing IBAN details within your complete database, using complex modulus checking rules
generates IBANs for all your existing valid domestic account details (BBANs)
identifies invalid records that require further information to be obtained or verified (including invalid account numbers and closed bank branches)
provides the correct BIC for all IBANs generated by the conversion service
includes a detailed analysis report and recommendations for further data improvements

Our Data Conversion Service also includes a comprehensive IBAN validation service. Where an IBAN is already present within your database, this additional service will validate and check the format of these records to ensure they are accurate and valid and SEPA compliant.

At the end of the process we supply you with a cleansed and updated data file which you can incorporate back directly into your database, minimising any errors associated with re-entering data.
Resources

Will poor quality in domestic account data affect the migration to SEPA?
EU payments - all change - Your step by step guide to getting the most out of SEPA
Bank Wizard Demo -

Click the logo above to view our Levi Strauss & Co case study