Sample Experian Credit Report
Experian CreditExpert gives you unlimited access to your Experian credit report*. The sample below shows you the key features.
Use the links below to navigate the sections of the sample credit report.
Profile Information
Profile Information
These are the details you provide us with when you become a CreditExpert member. We use this information to produce your report.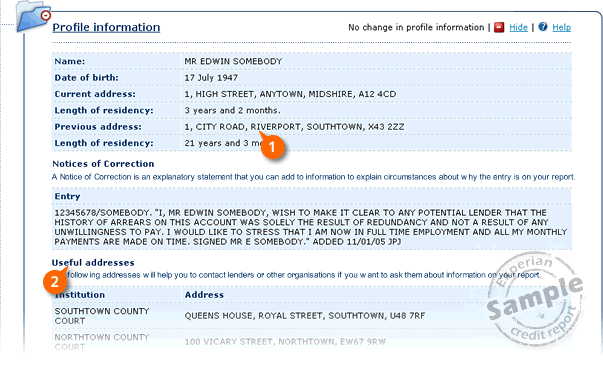 Profile information - When you join CreditExpert, you give us basic information that lets us identify you and find your credit report when you ask for it. If any of your details change, you can let us know by editing your profile.
Useful addresses - This section lists all the organisations that have contributed information to your credit report. It's a central source of contact details for you if you want to query anything or find out more.
Is your profile up to date? Check your credit report with Experian CreditExpert*
Electoral Roll
Electoral Roll
This section shows the dates that your name was registered on the electoral roll and the addresses you were recorded at.

How lenders use the electoral roll - Lenders check whether you are registered to vote at your current address as a precaution against fraud. If they don't find you or you're registered at a different address, they may ask for further proof of identity or even turn you down.
Are you on the electoral roll at your current address? Check your credit report with Experian CreditExpert*
Aliases
Aliases
Aliases are created when lenders tell us of other names you have been known by or when you tell us of other names you have used.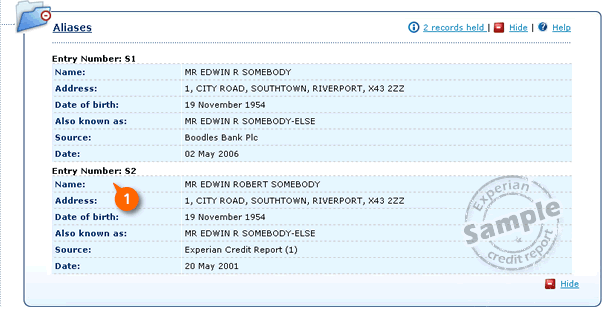 Your other names - Many people change their names when they marry or divorce. Others simply don't like the name they were born with or are given a title. This section lists your current and previous names here - your aliases - and allows you to find out who notified the name change.
Are all your names recorded correctly? Check your credit report with Experian CreditExpert*
Financial Association
Financial Associations
Financial associations show details of anyone you are financially connected to. Financial connections are created by joint accounts, joint applications, joint court judgments or from information you give to us.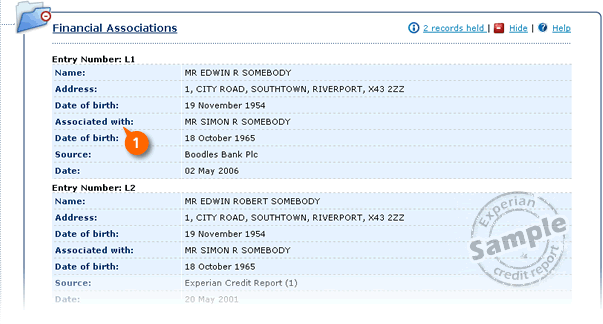 Financial associations - When you take out a joint account, such as a joint loan, you create a financial link with the other applicant, who is then listed in your credit report as a financial associate. Lenders may check the credit report of financial associates when you apply, because their financial circumstances could affect your ability to repay.
Is the list of your financial associates up to date? Check your credit report with Experian CreditExpert*
Public Records
Public Record Information
This section of your credit report contains details about court judgments, bankruptcies and individual voluntary arrangements.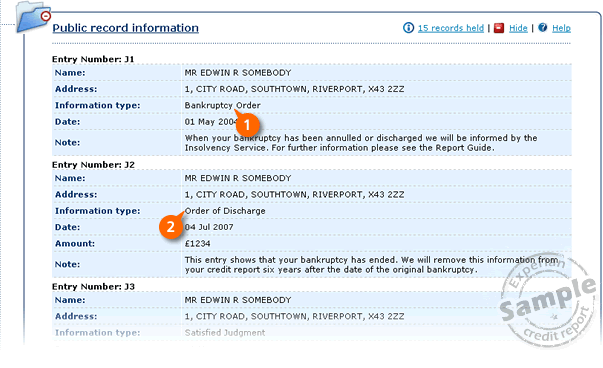 Public records - Your credit report contains information held on public records, such as court judgments for non-payment of debts, any bankruptcies or individual voluntary arrangements (IVAs).
Bankruptcy, IVAs and court judgments - Records of court judgments and IVAs are held on your credit report for six years and bankruptcies are there for at least the same length of time. Judgments that are paid at any time within the six years should be marked as satisfied. Judgments paid within one month are normally set aside and automatically removed from your credit report.
Are details of court judgments, IVAs and bankruptcies up to date? Check your credit report with Experian CreditExpert*
Account Information
Account Information
Credit account information shows details of your credit agreements with lenders.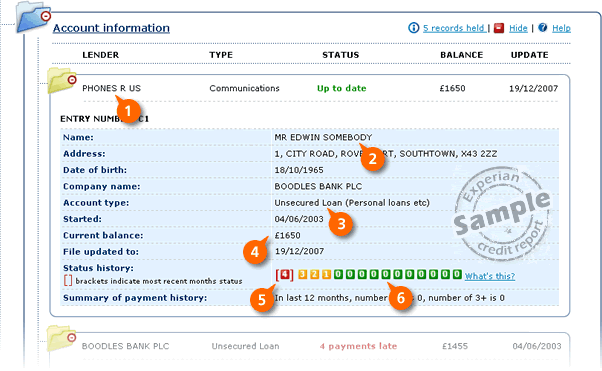 Account information - The term "credit" covers every account that gives you something of value - money, goods or services - that you can use today, on the understanding that you will repay the lender at a later date. That's why you'll find items such as utility and mobile phone accounts here, as well as credit cards, loans and mortgages.
Personal information - Every account in your name will affect your credit rating - even if a criminal is impersonating you to borrow money. If you find any accounts you don't recognise, you could be a victim of ID fraud.
Account type - From catalogue shopping to a loan for furniture, you probably have many different types of credit account.
Balance information - This entry shows the current balance of each account - the amount you have spent and not yet repaid. You'll also find the date the account was opened.
Defaulted payments - Look out for an 8 when checking the account status. It means that a lender has terminated the account because you haven't made payments and have failed to come up with a way of putting things right. A defaulted account stays on your credit report for six years and will lower your credit rating.
Status history - Your status history shows whether you are making payments in full and on time.
Are your accounts correct and up to date? Check your credit report with Experian CreditExpert*
Previous Searches
Previous Searches
Previous searches show the names of organisations that have seen some or all of the information recorded on your credit report within the past 12 months.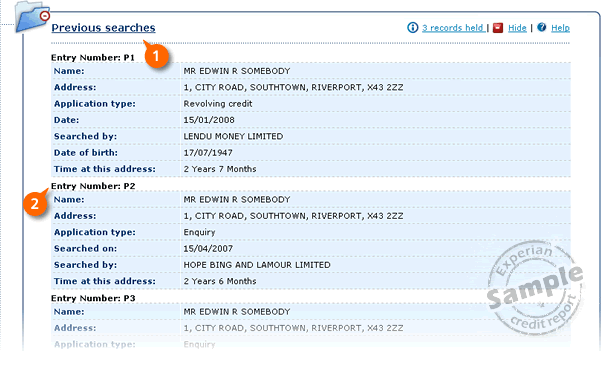 Previous searches - You agree to let lenders search your credit report when you apply to them. They may also check when they are preparing a quotation or make routine risk management checks on existing accounts. Other lenders will only see applications for credit searches.
Excessive searches - Multiple applications for credit within a limited period can count against you with other lenders, as it could be a sign you are struggling with your finances. It's important to be sure that nobody has mistaken a request for information for a full application or double-searched your credit report by mistake.
Has anyone searched your credit report unnecessarily? Check your credit report with Experian CreditExpert*
Linked Addresses
Linked Addresses
Linked addresses show where you have lived at.

Linked address - If you've moved in the last few years or have applied for credit from an address other than your usual one, for example, a holiday home - then those addresses appear here.
Are your address details up to date? Check your credit report with Experian CreditExpert*
CIFAS
CIFAS
CIFAS, the UK's Fraud Prevention Service, aims to detect and prevent fraud and to protect innocent people whose names, addresses or other details are used fraudulently by others to get goods and services.

CIFAS registration - Being on the CIFAS register doesn't mean you've done anything wrong. It's designed to protect you from fraudsters and warns lenders that a criminal has previously tried - perhaps successfully to use your identity to borrow money.
Are you on the CIFAS register? Check your credit report with Experian CreditExpert*
GAIN
GAIN
GAIN, the Gone Away Information Network, shows where an individual owes money and has moved without giving the lender a forwarding address.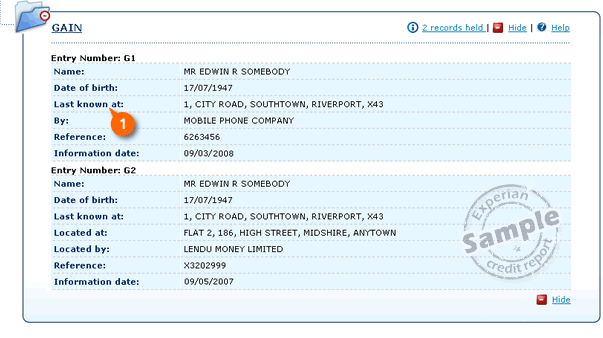 GAIN information - If you move without telling a lender and are at least 30 days behind with your repayments, your last known address may appear here. Often there is an innocent explanation and the situation can be put right.
Have you forgotten to tell lenders you've moved? Check your credit report with Experian CreditExpert*