Construction Forecasts is an independent and authoritative assessment of the current state of the UK construction industry and the outlook for construction output over the next 2-3 years.
A broad macroeconomic forecast provides the framework for a detailed analysis of the present situation and the short-term prospects for every major sector of the industry.
Compiled by a panel of industry experts – contractors, building materials producers, property agents and financial and professional institutions – and based on a clear set of assumptions, the analysis and commentary take account of the most current, accurate and relevant data, and provide the information you need to make the right decisions for your business.
Download our latest construction forecast factsheet below: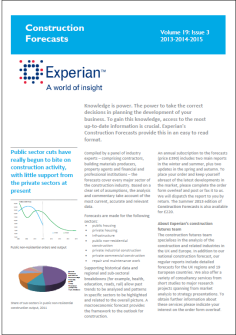 "Total construction output growth is now projected to average over 4% in both 2014 and 2015 before dropping below 3% in 2016"
"Private housing and infrastructure are expected to be the best performing sectors, the former driven by the impetus given it by the Help to Buy scheme and the latter by rising investment in energy and transport projects"