Construction Forecasts is an independent and authoritative assessment of the current state of the UK construction industry and the outlook for construction output over the next 2-3 years.
A broad macroeconomic forecast provides the framework for a detailed analysis of the present situation and the short-term prospects for every major sector of the industry.
Compiled by a panel of industry experts – contractors, building materials producers, property agents and financial and professional institutions – and based on a clear set of assumptions, the analysis and commentary take account of the most current, accurate and relevant data, and provide the information you need to make the right decisions for your business.
Download our latest construction forecast factsheet below: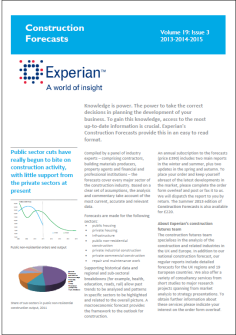 "There is little doubt that growth in the construction industry in 2014 was driven by new house building, both public and private. Out of the estimated £7bn (2011 prices) increase in total construction output between 2013 and 2014, the two new housing sectors accounted for close to 70% of this, while making up only 22% of total output.
Growth is expected to be more widely spread in the future. Expansion in new house building will inevitably fall to more sustainable levels but increases in activity in the new non-residential building sectors should strengthen significantly this year as demand for new office, leisure, distribution and logistics facilities in particular benefits from robust economic growth. The infrastructure sector should return to growth this year, but this is very much predicated on some of the major projects in the pipeline actually starting on site."