Employment Resources
Pre-employment screening can be a minefield. Is a job candidate who they say they are? Did they really work for that company? Do they have a criminal record? Are they financially stable?
Effective pre-employment screening with Experian Background Checking will help you to optimise your recruitment efforts and ensure that you secure the right candidate for the job, with no nasty surprises down the line! We've created 7 employer advice resources to help you understand the importance of pre-employment screening for your employees and to guide you through the process.
Read Experian's do's and dont's of background checking
Top 10 Tips for Successful Pre-Employment Screening
Successful pre-employment screening will allow you to verify a candidate's identity, check their qualifications, deter rogue candidates, reveal criminal records and much more. Our FREE guide will help you conduct candidate background checks that are fully compliant with data protection legislation.
Read Experian's Top 10 Tips for Successful Pre-Employment Screening
Recruit Good People Without Risk
When the livelihood of your business depends on the skills of your employees, you need to learn how to identify those who may be a risk, and those who can truly be relied upon. We've created a free 2 minute video to help you spot employees that could be a risk to your business.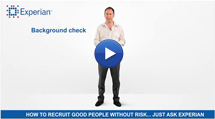 Alternatively, you can download our free How to Recruit Good People Without Risk
Recruit In Haste, Regret at Leisure
Employee screening doesn't just help you match the right person to the right job. It will also help you avoid employee fraud – the biggest single contributor to the £20 billion a year lost to fraud in the UK. So how can employee screening help? What role do candidate background checks have in reducing employee fraud? And how should you set up your pre-employment checking process to avoid risk to your business?
Read our Recruit in Haste, Regret at Leisure whitepaper now
6 Steps to Avoid Employee Fraud
Acording to the NFA Annual Fraud Indicator 2012 it is estimated that fraud costs the UK economy £20 billion a year, and most fraudulent acts are committed by employees rather than external personnel. Personal and financial stress can cause employees to commit these crimes and the number of internal fraud cases appearing in court is high.
Read our 6 Steps to Avoid Employee Fraud now
Graduate Recruitment – Know Who You're Employing
As the next generation of graduates prepare to enter the workforce, the pressure is on for your business to seek out the best recruits. Competition for jobs is fierce and graduates will fight hard to win the top jobs. So how can your company mitigate recruitment risks and be sure they are employing the best people?
Read our Graduate Recruitment whitepaper now

Managing Risk in Temporary Recruitment
As companies strive to have the exact amount of people on board to fulfil fluctuating business demand, finding the finest temporary staff has become a priority for many employers. So what are the risks and rewards associated with temporary staff and what steps can organisations take to mitigate the risks involved?
Read our Seasonal Sense: Managing Risk in Temporary Recruitment whitepaper now

The Benefits of On-Going Background Checking
What can employers do about the increasing threat of insider fraud? An on-going screening strategy can help to minimise this risk over the longer term and enable employers to better understand where the risks of fraud exist within their organisation.
Read our On-Going Background Checking whitepaper now