Call us
0845 234 0391
9am-5pm Monday-Friday
Meet the 'always on' consumer...
With consumers increasingly connecting with brands on the move across multiple devices, our new research has pinpointed four distinct types of consumer who are Always On and more digitally connected than ever before - Social Butterflies, Working Professionals, Gamers and Everything Tech.
This research highlights how brands need to evolve their marketing strategies to engage customers based on their platform choices and preferences to deliver co-ordinated and consistent customer experiences regardless of channel. Importantly, it also highlights that while they may all be super-connected, Always On consumers are distinct and different and so need to be engaged on an individual basis.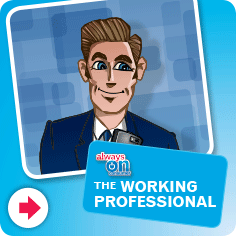 I'm doing pretty well working for a successful city firm. Every minute of the day counts, so whether I'm in the office, on the move or at home, I'm always connected – staying on top of emails, current affairs and investments. Time is money – if I'm offline for a single minute, I could miss the next big deal!