Without doubt, preparing for the General Data Protection Regulation (GDPR) is having significant impact on organisations in terms of costs and effort.
At Experian, we believe the GDPR presents a positive opportunity to transform the way you organise and process your data; increasing the value you derive from it and reinforcing customer-centric business practices that are essential in our data-driven age.
Why can Experian help? Based on a combination of our experience, services and software we can provide a solid foundation to launch your GDPR readiness.
We have curated our most relevant software capabilities, bureau and consulting services creating a GDPR package that will help you be ready for May 2018.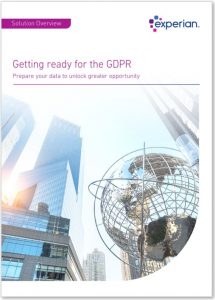 Please note that while we can support businesses with their preparations for the GDPR, we cannot offer legal counsel or compliance advice.