Identity verification: what is it and why is it important?
Staying ahead of fraud risks with multi-layered identity verification
---
Our latest UK Identity and Fraud report found that 69% of organisations experienced 'significantly' or 'somewhat' higher losses from fraud in 2023 compared to 2022. At the same time, more than a third (35%) of consumers feel that they are 'more of a target' for fraud than they were a year ago, with the biggest perceived threat being identity theft.
When it comes to fighting back against fraud, identity verification – which incorporates multiple techniques and technologies – is critical. Identity verification works by analysing data from numerous sources, such as from online identities, and cross referencing it with trusted data sources – such as the credit bureau – to gauge the likelihood that customers are who they say they are.
In this short guide, we take an in-depth look at what identity verification is and how identity verification services can help you minimise fraud risks, improve your consumers' online experiences
What is identity verification?
What is identity verification?
Identity verification is the process used to confirm and authenticate the identity of an individual. The process involves verifying the accuracy and legitimacy of the information provided by the individual to ensure that they are who they claim to be.
In the past, identity verification typically happened face to face. When customers opened accounts or initiated payments or other transactions they did so in person – often bringing paper documents with them to prove their identity and confirm the information they were providing about themselves was genuine and accurate.
But today things are very different. Most consumers now bank, shop and access a wide range of accounts and services online or via their mobile devices, requiring providers to identify and authenticate consumers remotely using digital tools.
The technologies and processes that enable effective, remote digital identity verification are many and varied, but fall into two key categories.
Online variants of traditional identity verification approaches

This includes the ability to check customers' details (such as name, address and date of birth) – against trusted data sources, for example banking records – or to verify their identity documents remotely using technologies such as artificial intelligence and machine learning.
Analysis of data relating to customers' behaviour, devices or online footprints

Device biometrics is one example of this category. This uses data analytics to understand more about the device a customer is using to make an application. In this case, the location and the IP address of the device can also be used to ensure these data points are congruent with the customers' identity information and documentation. Another technology – known as behavioural biometrics – allows organisations to analyse how customers initiate sessions online, how they hold and use their mobile devices, or whether they have other online accounts that match their online identity information – all factors which can indicate whether an online identity is genuine or fake.
What are the different methods of identity verification?
There are many different tools and techniques that address different aspects of ID verification, from analysing consumers PII, to checking identity documents and looking at how consumers access services or sites on their mobile devices. While the following technologies used for fraud prevention are targeted to specific identity verification tasks and methods, they're often used simultaneously to provide multiple layers of fraud protection.
Activity history
A consumers' activity history is typically cross-referenced against multiple trusted data sources, including credit bureau data, to ensure that the information submitted by the individual matches with records about the person in existing, trusted databases. Typical consumer PII used for identity verification includes name, date of birth, address, telephone number and other contact details. Other data, such as demographic data and information from consumers' social networks, can also be used to increase trust in their digital identity.
Mobile network operator data
This 'alternative' data type gives organisations access to consumers' mobile phone identities, which includes their name, address, device details, and other information that is typically associated with a phone number or contract.
Document verification
Many organisations now ask customers to take a photograph of an identity document – such as a passport, driver's license or ID card – on their mobile device and upload it for review. Using an AI-powered facial recognition application, it's possible to verify that the photograph on the document is genuine, rather than a computer-generated image or a picture of someone else. AI-powered apps are very sophisticated in terms of their ability to recognise fake documents, checking everything from the position of paper folds to fonts, magnetic links, and more.
While these kinds of AI-powered document verification solutions are able to add trust to consumers' digital identities quickly, cost-effectively, and at scale, fraudsters are now also using AI to generate increasingly convincing fake ID documents. As a result, organisations need to constantly review and upgrade their document verification tools to stay one step ahead of fraud risks. A liveness check can be used to ensure that the individual is who they're claiming to be.
Behavioural biometrics
This fraud technique analyses a customer's unique behaviour patterns, such as their typing speed, finger strokes, or mouse movements, to verify their identity. This doesn't just improve security, but also provides a more seamless customer experience, with no need to remember endless passwords and security questions.
Device biometrics
This method collects and analyses data about end users' devices. For example, the IP address of the device and the device location are key datapoints that can indicate whether a customer is genuine or attempting to commit fraud.
Physical biometrics
Increasingly, providers are deploying physical biometrics solutions, which use fingerprint readers, iris scanners, facial recognition algorithms or other technologies, to identify and authenticate users remotely. While this creates a challenge in terms of providing customers with biometric readers or scanners, this is known to be one of the most trusted security methods among consumers and a key investment priority for many financial services institutions and other organisations.
While today's consumers see security as an important part of their online experience, they still want a quick, seamless digital journey. To ensure that customers can access products and services online in a way that is swift, simple and secure, you need identity verification solutions that provide multi-level fraud protection in an efficient and automated way

Adam Payne, Identity & Fraud Product Manager, Experian
What are the top 6 benefits of identity verification?
By augmenting organisations' fraud-prevention capabilities, identity verification services help to minimise financial losses, increase customer confidence and loyalty and streamline compliance with KYC rules and other industry regulations. There are 6 key benefits of identity verification that are critical for enterprises who interact with customers digitally.
Cost savings

Manual identity verification processes can be extremely costly for organisations. With multi-layered, automated identity verification solutions it's possible to reduce unnecessary administrative costs. A win-win solution for both the business (cost-saving) and the customer (streamlined customer experience).

Detecting and preventing identity fraud

One key way to check the identity of an individual is to cross-reference their PII with trusted data sources. Trust in their online identity can also be increased using AI technologies to examine and verify identification documents, and by using device and behavioural biometrics solutions. This kind of multi-layered approach is critical to combat modern fraud techniques which often use a combination of real and fake information. The leading identity verification providers also hold extensive information on most UK consumers, helping to raise red flags for identities that simply 'appear out of nowhere'.

Together, these capabilities provide the strongest possible defence against identity fraud.

Delivering fast, frictionless customer experiences

Our 2023 UK ID and Fraud Report found that 32% of UK consumers have considered abandoning a new account opening journey due to onerous identity and security checks (rising to 41% in the 18 to 24-year-old age category). With multi-layered ID verification, consumer PII analysis, document reviews and other checks can be completed automatically in a way that is fast and completely transparent to customers, reducing abandonment rates and significantly improving the online customer experience.

Increasing operating efficiency

For financial institutions, manual identity verification processes are time consuming. This issue can be overcome with multi-layered, automated ID verification approaches that use multiple techniques – including PII and document verification, device biometrics, behavioural biometrics and others – to minimise manual interventions, reduce administrative costs and reduce waiting times and improve experiences for genuine customers.

Streamlining regulatory compliance

By confirming that customers are who they say they are, identity verification enables organisations to comply more easily with Know Your Customer (KYC) and Anti-Money Laundering (AML) regulations. It's also possible to apply identity verification to support specific industry regulations or requirements, such as age verification for adult products, services or content, or to ensure that gaming companies recognise and protect vulnerable customers, for example. To fully support organisations' compliance requirements, identity verification should be open and transparent in terms of the business logic they use to support decisioning.

Supporting financial inclusion

Not all customers have passports and other 'strong' identification documents and many also lack credit histories, either because they are young people, working for the first time, or new to the country. In these cases, the leading identity verification solutions can use multiple data sources to verify that a customer is who they say they are – including documents such as driving licenses, utilities bills, and mobile phone bills. Although this kind of authentication may not grant new customers access to high value products, it could help to get them on the ladder in terms of accessing financial services, including basic bank accounts which are essential for financial inclusion.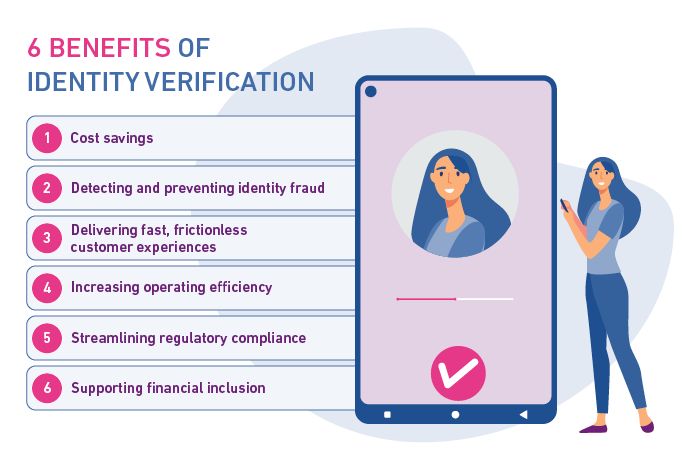 How can we help?
We have multiple services that can be stacked and configured to meet the needs of your business and your customers – from a basic ID Verification to a full Trust Framework Compliant ID Verification journey & Anti-Fraud solution.
We provide the multi-layered identity and verification checks that you need to prevent fraud and protect your business. Our extensive menu of identity attributes provide checks and validation of the legitimacy and accuracy of an identity, along with the elements that constitute that individual's digital identity.
Our solution
Our identity verification solutions are an extensive, cloud-based suite of services that meets all of your end-to-end identity and verification requirements, throughout your customers' lifecycle.
Helping you comply with regulations
Protecting against fraud
Maximising "good" customer onboarding
Providing value for money
All of this can be deployed quickly and easily and accessed via a configurable API to support your existing workflows. As a result, you can use our services to verify customers' identities quickly and easily according to your own risk profile, ensuring you're staying compliant with KYC, AML, and age-verification requirements, in line with your business needs.
Take your identity verification to the next level
Get in touch to discover more about our fraud risk solutions and the benefits for your business.
Get in touch