Price rises are putting pressure on households across the UK, and they are now feeling the squeeze. For consumers, filling shopping trolleys and fuel tanks, and staying warm in their homes, are all getting noticeably more expensive.
Forward-thinking lenders can gain a significant advantage by providing Financial Education that helps consumers negotiate their new financial realities.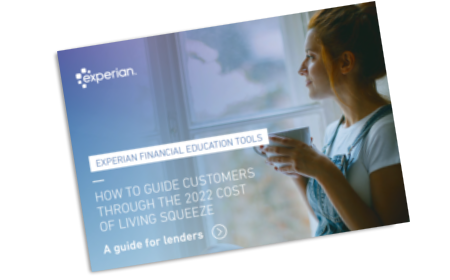 Read our paper on how lenders can help customers through the cost of living squeeze
Download now
Experian's new white-label Financial Education tools merge Experian credit scores and reports with transactional Open Banking data to provide the most complete picture yet of a consumer's finances.
Experian's Financial Education is suite of components that can operate independently or as one, built from Experian credit scores and reports and Transactional Data. Offered either in an easy-to-integrate white-label form or via API, they can be tailored to meet a customer's needs.
With Financial Education tools, the picture of a consumer's whole financial life is no longer a jigsaw with missing pieces and bits that don't fit together.
By using the richest picture of a consumer ever, lenders can:
Educate and support customers in line with FCA best practices
Provide optimal products and services customers will need to support their growing needs
Build warmer, more engaging and less transactional relationships with customers that are characterised by trust and loyalty, and sustained by personalisation and support
Demonstrably meet their FCA commitments to supporting the financially vulnerable and treating customers fairly
Attract, engage and then retain customers