Today's consumers spend as much time engaging with digital payments as they do with their email, according to our latest research. Indeed, people of all ages around the world perceive that conducting financial transactions online is becoming easier and more convenient.
Our survey results reveal the rise of a new digitally savvy consumer – one who is increasingly aware of new payment methods, advanced recognition tools, and the use of AI, and has higher expectations of their digital experience. These consumers are engaged participants in an evolving digital ecosystem, and in many ways, they're driving the change.
But it's a two-way relationship. In return for their loyalty and trust, they're demanding that businesses meet their expectations for security, convenience, communication, and customer support in ways that makes their work and lives easier.
Our report will help you understand:
What consumers consider a positive digital experience and the opportunity for businesses
The consumer need—and readiness—for frictionless recognition and security measures
The value consumers want in exchange for sharing their personal data
The normalisation of digital payments and the mainstreaming of Buy Now, Pay Later (BNPL).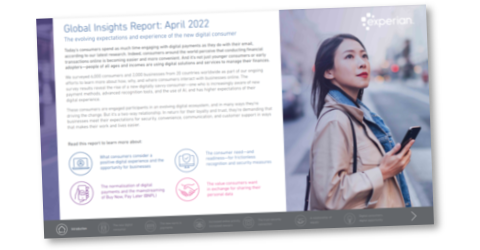 Read our latest Global Insights report to find out more.
View the report
With digital transactions becoming the norm, businesses have a significant opportunity to gain trust, build loyalty, and grow their customer base. Broadly, this starts with finding ways to ensure that the consumer online experience is secure, frictionless, and supported at every juncture. Businesses that implement an agile approach that stays ahead of consumer expectations and increasingly complex fraud attacks stand to find more success.