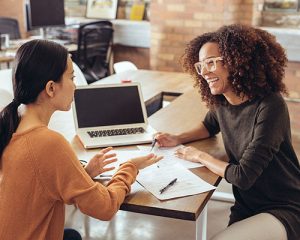 If you work in HR, onboarding or recruitment, chances are you've probably asked yourself one of the following questions:
What is a right to work check?
Who does right to work checks?
How do you do a right to work check?
How often do you do a right to work check?
How do I know I'm doing my right to work checks correctly?
So have my team and I.
We got our thinking caps on. Surely there's an easier way of doing these checks?
Experian already offer a range of recruitment solutions, from background checking to reference verification, so it seemed only logical to develop a platform for right to work checks that meets the needs of the modern digital workforce and a HR department too.
We consulted our clever team of product developers and decided to create a new process for right to work checks. A process that adhered to the Home Office requirements for a right to work check, but was cost effective and easy for HR teams to implement, while enhancing the onboarding experience for candidates.
Introducing the Right to Work App. A brilliant application that has been created for HR to help any business conduct their right to work checks.
What exactly makes a right to work check?
A right to work check validates that an employee has the right to work in the UK. To conduct a right to work check an employer must view, copy and store the relevant documents for every candidate, before they start employment.
So why do I like the Right to Work Application so much?
As well as giving you peace of mind that your checks identify people who don't have the right to work in the UK, the step by step instructions that pops-up throughout the app tells any user exactly what documentation is required, making sure they capture the correct type of visa and supporting documents to give you a statutory audit. For me and my team, this feature has enabled me to roll out the responsibility of conducting the checks to 750 hiring managers at Experian, freeing up my teams' time and simplifying the onboarding journey for candidates because it is integrated into the process and so simple to do through the workflow the App provides.
Being able to use the app in any location, on any device, (from a mobile or tablet, to a desktop computer with a USB camera) has dramatically reduced the amount of paperwork we are processing in HR as the App stores all our check data in a secure digital portal. Handy alerts also let us know three months before re-checks are needed for employees who don't have the permanent right to work in the UK.
As you know, making sure your checks adhere to any legislation changes is imperative for legislation. With the Right to Work App I don't have to worry; updates are regularly made in advance of any changes to the legislation and the portal has everything we need safely stored in case of checks and inspections. It's the perfect solution for all your right to work administration.
Discover Experian's Right to Work Check Application or call us on 0844 481 5873 for more information.