1. Revisit the end goal for your consumer recognition and security programmes
When it comes to what today's UK consumers want, security and convenience top the list. With 41% asking for convenient online experiences and 38% asking to be recognised during online transactions for a seamless experience, it's clear that any friction in the interaction can lead to lost business and damage to your customer relationships.
For this reason, it's critical to revisit the end goal of your consumer recognition and security programmes – starting from the premise that more than 99% of consumers are legitimate. The key to success is to allow these consumers to interact freely with your business, and to recognise them as early as possible in any online interaction. Critically, you also need multi-layered, properly orchestrated fraud defences that can catch the very few people who are less well-intentioned, and who wish to breach your systems to do harm.
2. Understand the expectations and capabilities of your online customers
While the trend to digitalisation and online transactions has been underway for many years, it has been hugely accelerated by the COVID-19 pandemic, and there's no doubt that the new digital normal is here to stay.
It's no surprise, then, that we're seeing consumers from all demographics, age groups, and income brackets increasing their online activity (including online purchases), creating a range of new digital marketing and sales opportunities.
But along with the opportunities come new challenges, especially because no two customers are the same, and have different expectations and comfort levels when it comes to using advanced ID and fraud-prevention tools.
This creates the need for new types of education and support – particularly for customer segments who could benefit from increasing their digital skills and comfort level. This kind of initiative, as well as helping you protect your business and consumers against fraud, can help you to build longer-standing, trust-based relationships with your customers for a higher lifetime ROI.
40% of UK consumers have increased their online spending in the last three months. Consumers are spending more across all demographics, with high-income households (61%) and younger consumers (63%) increasing their online spending the most.
3. Leverage orchestration solutions to connect recognition, fraud prevention and customer experience
This years' report shows that organisations are investing in a wide variety of layered ID and fraud solutions – from device-in-hand solutions that use one-time passcodes, to physical biometrics, and two-factor authentication solutions. These investments are taking place across diverse business functions, from onboarding decisioning and mobile security, to fraud detection and prevention.
But while these solutions have the power to dramatically increase an organisation's fraud detection and prevention capabilities, siloed technology can also have the opposite effect. In other words, siloes create the potential for poor customer experiences, while also increasing the risk of fraud by creating a larger, and more vulnerable, 'attack surface'.
To mitigate this risk, multi-layered security solutions can be integrated into a single ID and fraud platform where they can be orchestrated and optimised. This approach ensures that no siloes exist between solutions or functional areas, and that security can be maximised with no negative impacts on consumer experiences.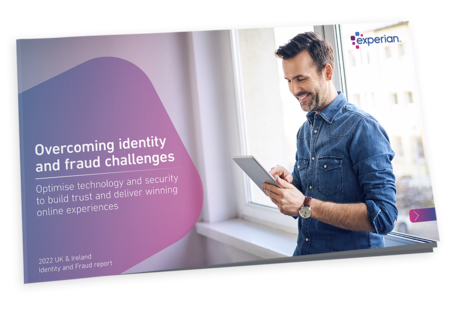 In this year's Identity and Fraud Report, we explore the concerns, preferences and needs of today's digital consumers
Download now
4. Outsource to increase capabilities but keep fraud prevention in the picture
One trend that featured large in the report this year was outsourcing. As organisations are working with third parties to fill resourcing and skills gaps, and to scale their digital capabilities across multiple areas simultaneously, from security to remote worker engagement.
But while outsourcing is a valuable strategy when it comes to ramping up ID and fraud capabilities quickly in multiple areas of the business, the strategy isn't without risk. This is especially the case where organisations outsource solution development without considering security best practices and processes built into other, more established processes or areas of the business.
The key takeaway here is to ensure that any new solution being developed by outsourced resources conforms to the most stringent security requirements and aligns with ID and fraud processes that have been used successfully for other apps and channels.
A wide range of business functions and development projects are currently being outsourced by businesses in the UK and Ireland.
Cloud service solutions – UK 37%, Ireland 45%
Fraud detection/prevention software – UK 35%, Ireland 22%
Remote workforce solutions – UK 35%, Ireland 37%
Data analytics – UK 30%, Ireland 38%
AI – UK 29%, Ireland 38%
Decisioning analytics – UK 29%, Ireland 29%
5. Double down on initiatives that build consumer trust
This year's report shows that organisations who establish a track record of accurate recognition and secure online transactions with consumers are more 'trusted' overall. In particular, consumer trust can be earned through the deployment of latest-generation ID and fraud solutions, such as physical and behavioural biometrics, and two-factor (or multi-factor) authentication.
The report shows that consumers' preferred security solutions include passwords (77%); PIN codes sent to their mobile devices (73%); security questions (71%); physical biometrics (54%); behavioural biometrics (54%); and using existing social media accounts (48%).
Which verticals are getting online security right?
Our research shows that the top 5 most trusted organisations for protecting consumers online are:
Technology companies, including large internet and mobile comms companies – 37%
Retail banks – 30%
Payment system providers – 28%
Mobile and e-commerce marketplaces – 29%
Streaming services – 27%
For more insights on consumers changing expectations for online security, and how organisations are ramping up their ID and fraud capabilities, download the full report below.
Download the 2022 UK&I Identity and Fraud Report