In this paper, we'll share our experiences and insights around enabling Financial Crime automation. We'll explore what's needed for effective event-driven reviews, explain how they work and take a step-by-step look at what makes the Experian process so powerful.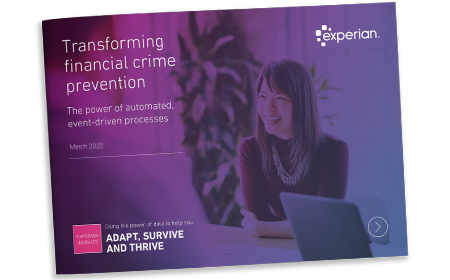 Transforming financial crime prevention - the power of automated, event-driven processes
Read now
The fight against financial crime is a constant one, with relentlessly evolving challenges that demand ingenuity, agility and in-depth understanding. We firmly believe transitioning to an event-driven review approach is the best way to rise to those challenges – identifying risk sooner, building greater clarity and creating genuine confidence in your customer pool.
We're committed to ensuring every project delivers maximum value – in terms of realisable operational savings, improved customer experience and low-risk delivery – which all means you'll start to see real, concrete benefits, just six weeks after we begin.