In today's fast-paced society, customers want instant decisions. They know that credit is accessible, almost immediately; they don't want to wait for time-consuming offline checks, they want to access credit right away to make the purchases they need. Making a prospective client wait for a lending decision could cause frustration and uncertainty, turning them towards an alternative provider.
But as a lender, you have a deeper responsibility than just a quick, instant decision or slick customer experience. You need to make sure you have made all the necessary credit, affordability, identity and fraud checks to ensure you understand the customer and their suitability. Who are they? What are their circumstances? Can they afford the repayments?
Balancing the conflicting needs of experience, compliance and your own credit risk strategies can be a challenge. But with the right data, analytics, integrated processes and strategies for timely decisioning, both you and your customer can find their needs are met, with a strong degree of accuracy and satisfaction.
The developments in market, brought specifically by the cloud can offer not only greater speed, but more efficiency to your decisioning. What's critical however, when choosing a partner, is ensuring the cloud-decisioning can accommodate multiple data sources, analytical processes and the future stability and adaptability you need. In short, the need is not just cloud, but cloud with the data and analytics you need to balance the requirements.
In combining customer information with quality data, you can seamlessly interrogate applications to enable a smarter decision:
Credit history: Does the applicant have a good or bad credit history? How has their credit history 'trended'? Have they kept up with existing commitments? Do they have an outstanding CCJ? How willing are they to pay?
Fraud: Are there any indicators of potential fraud? Does all information within the application match existing records?
Identity: Are you sure the person applying is who they say they are? Can they verify their identity? Can you identify if they are a person, or a bot?
Affordability: Can the applicant afford a new financial commitment? What do their credit behaviours look like? Can Open banking be enabled? What additional and new sources of data are available, such as data specific for any Buy Now Pay Later (BNPL) commitments?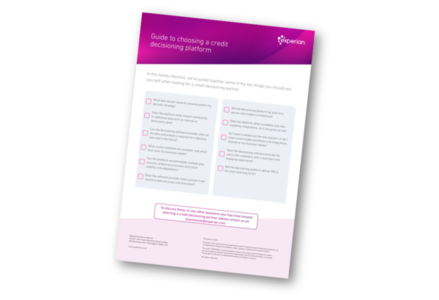 What else do you need to consider when choosing a decisioning platform?
Download our checklist
Innovation in Decisioning
Taking existing data from the channels above and integrating this alongside predictive scoring models and policy rules, our modular software enables lenders to make better lending decisions for both their portfolio, and the customer's needs.
At Experian we have invested significantly across data, analytics and cloud-decisioning in order to help you make better, smarter, faster credit decisions at a portfolio and customer level. Our decisioning environments can be pre-configured with Experian data, but also allow instant connectivity to additional sources, such as into your own data lakes, or from other third-parties you may use. In addition, in-built machine learning capabilities offer the ability to test and learn, manage and monitor strategies and instantly deploy machine learnt models.
What should you consider when choosing a decisioning platform?
To help you choose the best decisioning platform for your business, we have developed a helpful checklist to make sure you've asked yourself some key questions.
Download our checklist now to make sure you've considered:
Scalability
Integration
Data accessibility
Performance
Download our checklist
How can Experian help?
We're one of the UK's most recognised names in credit decisioning and analytics. With instant access to our unique data sources, we can help your organisation generate faster, more accurate and smarter decisions across the customer lifecycle.
As a trusted partner, we work with lenders to better understand their needs and bring solutions to market which solve real problems, with real data, advanced analytics and modern technologies.
Our latest SaaS decisioning solution offers a modular platform, that can be tailored to your organisation's needs. Giving access to the data, insight and action you need at speed and scale with the flexibility to quickly change your strategies, deploy new scores or machine learning models.
Find out how Leeds Building Society integrated Experian's PowerCurve to enable an 11 second decision in principle.