Our experts

Mark Goodfellow, Partner - Rental Exchange, Experian - I am responsible for overseeing the roll out of The Rental Exchange into the Private Rented Sector. I work directly with landlords and letting agents to facilitate the transfer of rental payment data into The Rental Exchange and manage the relationships with our rent payment service providers. The Rental Exchange is a fantastic and exciting initiative which will have a positive impact on tenants and the PRS as a whole.

Lee Amos, Data Acquisition Manager - Rental Exchange, Experian - My role within The Rental Exchange is to engage with Landlords, Housing Associations and Local Authorities alike, to present the positive message and impact it will have on the lives of their tenants. My background in telecoms in the UK and retail credit means I understand the importance of being able to prove your identity in the digital world along with the importance of building a healthy credit file. I have seen first-hand the impact of not having either of these and how consumers can get turned down for products and services that many of us take for granted. I love the simplicity of Rental Exchange, helping tenants build their credit file and giving them the opportunity to gain access to mainstream credit including better rates and services.

Holly Breen, Data Management Support, Rental Exchange, Experian - My role within the Rental Exchange is to support all of our data contributors across the private and social sectors through the technical implementation. Good data quality is a priority for the Rental Exchange so I work closely with all of our clients to offer support and guidance on achieving this as they transition through the testing and live phases. This support is ongoing and along with my team we ensure that all monthly files are the best they possibly could be. I have three years of experience working in Experian processing consumer credit information which means I understand how important it is to ensure that the data I load is accurate. The Rental Exchange is a fantastic and exciting initiative which I feel as a member of 'Generation Rent' will have a positive impact on consumers who would otherwise be at a disadvantage.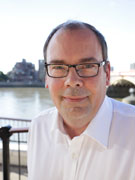 John Montague, Managing Director, Big Issue Invest - I lead on behalf of Big Issue Invest in engaging and supporting tenants and landlords to fully understand the benefits and opportunities that The Rental Exchange can offer. I have worked within the social housing sector for the last 15 years and joined Big Issue Invest in 2012 to support with the delivery of The Rental Exchange and other innovative social value projects. I'm proud to be involved in The Rental Exchange, providing financial and social equality for millions of families across the UK.
Statutory Credit Reports
Rental data is now appearing on Statutory Credit Reports (available from here). Please note that the data is not currently on the following Experian services until later in the year: Credit Expert and Credit Matcher.
Our latest Rental Exchange resources
If you have any queries, please don't hesitate to contact us and a member of our team will be happy to help.
Get in touch