Mosaic Shopper Segments
An understanding of consumer buying habits and preferences helping retailers and brands to deliver more relevant experiences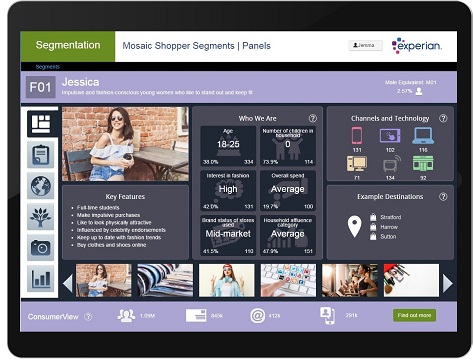 With consumers more empowered than ever through technology and choice, each interaction they experience with an organisation - regardless of channel - is key to building a strong and lasting relationship with them.
Retailers and brands need to develop and maintain a deep understanding of their existing and prospective customers to be relevant and offer value. Personalising a path to purchase, treating a new customer in the same way as your most loyal customers (or not), or simply communicating future product purchases of possible interest are all examples of marketing activity that can improve sales performance. But done well, all require a deeper level of insight.
Mosaic Shopper Segments is specifically designed to provide an understanding of the shopping habits, preferences and behaviour of the UK adult population. The segments can help you deliver a more personalised and relevant customer experience across all channels and establish stronger relationships.
Our interactive, online portal brings all of our segmentation products to life, allowing you to explore the full range of dynamic information behind them (full access via a dedicated login is only granted to customers, but you can explore example segments. Simply use the scrolling banner on the right to select the relevant segmentation product).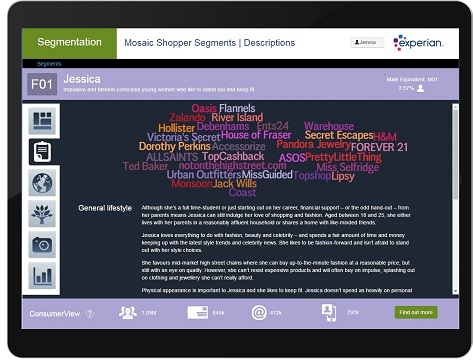 With Mosaic Shopper Segments, you can:
Segment the UK population based on retail-specific attributes
Understand aspects of gender bias in purchase decisions
Harness the data strength of Mosaic UK in a retail environment
Find your audiences across all channels to better engage new customers
It's purpose-built
Mosaic Shopper Segments blends retail-specific consumer insights from some of the largest market research organisations in the UK with a wealth of geo-demographic expertise and bespoke research on cross channel behaviours and technology adoption.
The result is a consumer segmentation specifically designed to answer burning questions for the different sectors within the retail space.
If you have any queries, please don't hesitate to contact us and a member of our team will be happy to help.
Call us on 0845 234 0391
Outside the UK +44 115 901 6019
Calls cost 2p per minute plus your phone company's access charge
Get in touch
---