Enhance and enrich your consumer, business, and government data with additional information including demographics, location, lifestyle, and segmentation.
Gain a richer understanding of all your customers and prospects in order to tailor your messaging to them further and base your strategic decisions on even more in-depth and trustworthy information.
What data is available?
Experian's enrichment solution first verifies the customer data you are collecting, such as name, phone number, address and email. After verification, a record can be enriched with missing or incomplete information. Over 900 additional data attributes can then be appended to complete the picture you have of locations, households and individuals.
Available data includes demographic information from Experian Mosaic©, business information, government statistics and marketing suppressions.
Append business or government data to the information you collect to increase its value to your business.
Verify the UK address data you collect against leading address files, such as PAF® and AddressBase®, or validate international addresses.
Every day in the UK people die, people move house and people register with the Mailing Preference Service (MPS). Keep your customer data up to date.
Benefits of data enrichment
Data enrichment provides better insight into individuals at the point of interaction, allowing you to tailor messages, prioritise leads, personalise offers and improve engagement online, over-the-phone, and through marketing communications.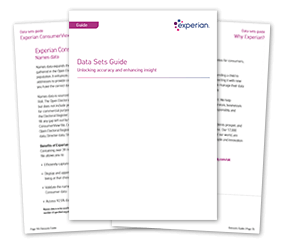 Data Sets Guide
Explore the full breadth of the data we have that enhances your customer insights.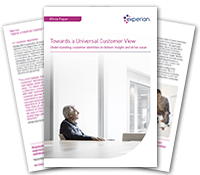 Explore how enrichment can help create an accurate and holistic view for your customers.
Features of data enrichment
Real-time customer insight for more effective decision making
Access to the most comprehensive marketing database available
Wide breadth of consumer attributes
Flexible implementation options
Experian's secure data and privacy standards
Support from Experian's data consultants
Contact the Experian team
View our Privacy Policy for details on use and storage of your personal data.
*Denotes a required field